State of the States 2010
2010 State of the States: The State We're In




Downloads

Full Report (pdf)

Many states made great strides in implementing local reforms in 2009, despite the constraints of the recession and uncertainty about the impact of potential federal reforms. These innovations are documented in this year's State of the States: The State We're In.

The State We're In tells the story of how states:


protected Medicaid during a time of serious fiscal constraints;
increased coverage for kids;
responded to falling employer-sponsored coverage rates;
experimented with exchanges and other ways to organize local insurance markets;
addressed rising delivery system costs by improving care coordination: and,
explored novel ways to re-think health care payment systems.
About State of the States
State of the States is an annual publication of State Coverage Initiatives. It is a detailed summary of state health policy reforms undertaken in the previous year.
State of the States 2009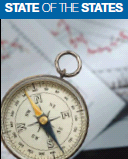 2009's State of the States reviewed the full range of state activity on health reform during 2008 while also looking to the future, particularly in light of the expected impact of the economic downturn and the possibility of federal action.
View past State of the States publications here.


View Five-Year Timeline of State Coverage Strategies.